Flat Rate Shipping

Same Day Dispatch

5% Price Beat*

Spend and Save

No Minimum Order
Buy Australia's favourite lollies at the lowest online price – guaranteed!
MyLollies has a massive range of all your favourites lollies, so you're sure to find something you love!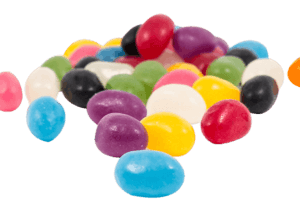 Brighten your day with favourites including Party Mix and Jelly Beans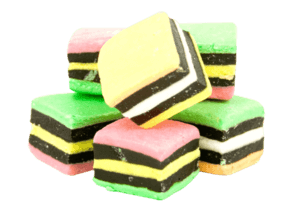 Enjoy treats from your childhood like Allens Red Frogs or Licorice Allsorts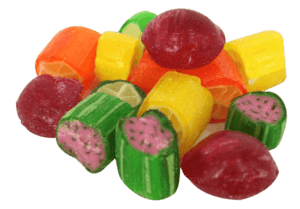 Treat yourself to modern favourites like Gummi Bears and Rock Candy
Price match guarantee
Our price-beat guarantee ensures you're getting the best possible deal on all your sweet treats.
If you happen to find a cheaper price for an identical item anywhere else online, we won't just match their price – we'll beat it by 5%!
It's all part of our commitment to brighten your day with not only the sweetest candies, but the sweetest prices, too!
Australian-made Lollies
Wherever possible, MyLollies strives to use Australian-made products.
As a local family-owned business, we think it's vital to invest in our own community and keep Australia strong!
It is this commitment, along with our dedication to customer service, that saw us become the Australian Business Champions Online Small Business winner for 2014.
Customised lollies make the sweetest gift!
Everyone loves getting something for free.
You will be amazed at the amount of happiness you can give your clients, staff, or club team mates when you give away our Mini Bags containing all your favourite sweets, including pick and mix lollies!
We can also create a customised print on the bag with orders from as little as 500 bags. With prices starting from just $0.48 per bag for our best-selling 50g party mix, you will be surrounded by smiles in no time!
Flat-rate shipping to make your life easy!
For just $9.90 in Victoria and most capital cities, or $19.80 for almost anywhere else, you can enjoy the sweetest treats – delivered direct to your door.
Shipping is fast, secure, and easy – all you have to do is order $100 worth of your favourite sweet treats, and we'll take care of the rest.
We also offer same-day dispatch when you place your order by 1pm on a business day, so you can start enjoying your yummy sweets sooner!
Sweet tooths unite, you've arrived at the site of your dreams!
From Lollipops and hard candy to your favourite Allen's classics and everything in between, at My Lollies, we've got your sugar cravings sorted.
Here at My Lollies, we are lolly connoisseurs, and pride ourselves on only stocking candies and chocolate of the highest quality and flavour. Whether you're shopping for your pantry (because who doesn't love an endless stash of confectionery), or creating a standout event, we've got a sweet range for you.
If you're anything like us, you'll agree that a packet of Allen's lollies is a necessity in every household, and if you've got some Allen's snakes on hand, you've scored ten points in our book. From the gummy snakes to the nostalgic Fantales, there's no denying that no pantry is complete without this iconic Aussie sweet.
Have you ever been to a party that had a lolly buffet and found yourself not leaving its sight for the entire event? We have! Whether you're hosting a children's birthday party, engagement, wedding, anniversary, or any form of special occasion for that matter, a lolly buffet is always a crowd pleaser, and we've made creating one nice and easy for you! Best of all, our lolly buffets are completely customisable, meaning that you can tailor the presentation and theme to match any kind of event. From formal occasions to something fun and fabulous, our diverse range was created with your next event in mind, and rest assured your guests will love you for it.
And, to make your event planning even easier, we've got your party essentials covered, stocking everything from plates, cups and napkins to decorations and a variety of props to bring your event to life.
Lollies, candies, and chocolate can brighten anyone's day and make a sweet impression (pun intended). From birthdays and anniversaries to client gifting, delight that special someone with a lolly bag or bundle of joy, and by joy, we mean sweets. A thoughtful and affordable gesture that will bring a smile to anyone's face. What's not to love about receiving a parcel filled with your sugary favourites?
So, share the goodness of our sweet treats with your fellow sweet tooths, at the sweetest prices, guaranteed.