Bulk Chocolate To Celebrate These Global Chocolate Dates!
Let's face it – everyone always wants bulk chocolate!
After all –  it's one of the best things ever invented.
Granted, we may be a little biased… but come on: we're talking about chocolate! It's so good!
From milk chocolate and caramel chocolate, to white chocolate and the cute chocolate hearts you buy on Valentine's Day – with so many different kinds of chocolate out there, everyone can find something the like.
We guess it's a good thing you can buy cheap chocolate online so that your pantry or office tea room never run out!
So, we shouldn't really be surprised that there are multiple events around the world celebrating chocolate!
The big one: World Chocolate Day
When: 7th July
Where: Worldwide
July 7th, 1550: a day that changed the course of history.
What happened? Was something life-changing invented? Did an important monarch die? Did construction begin on some much-beloved monument?
While each of these are big deals, we're talking about something even bigger: this is the day that chocolate was first imported into Europe, from where it spread to the rest of the world.
And the best way to celebrate one of the best treats ever invented? By eating chocolate… and lots of it!
After all, it's World Chocolate Day – you're allowed to buy bulk chocolate!
In addition to buying chocolate, you can also show your love for chocolate by putting on a movie (Willy Wonka and the Chocolate Factory is the obvious frontrunner) or by swapping out your morning espresso for a mocha.
And if you want to find out how other people celebrated the international day of chocolate, just search #worldchocolateday on Instagram!
Of course, with so many different kinds of chocolate out there, it just wouldn't be fair for there to be only one chocolate day a year…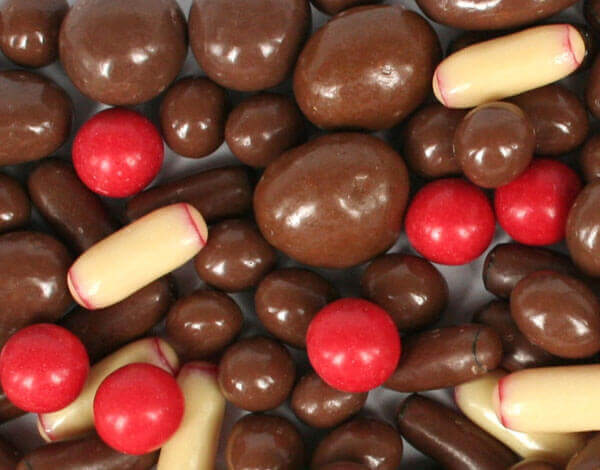 Dark Chocolate Day
When: 10th February 
Where: Worldwide
One of the best things about chocolate is that there's a type for everyone.
Feeling nostalgic? Enjoy some chocolate clunkers.
Something fun, and a little bit naughty? Liquor chocolate.
Want something more refined and sophisticated? Dark chocolate.
If you're one of the increasing number of people who list dark chocolate as their favourite type, this is the day for you.
On February 10 is a day dedicated all the dark chocolate lovers out there. Know someone who loves bittersweet chocolate? They might not even know Dark Chocolate Day exists!
You could surprise them on February 10 with a bag of choo choo bar licorice (and maybe some strawberries and a bottle of Shiraz) –  we guarantee you'll be in their good books for a long time!
Click here to buy dark chocolate online.
The day Ghana celebrates chocolate
When: 13th February 
Where: Ghana
What's the world's largest cocoa-producing region?
Surprisingly, it's not South America (a major plot twist, given that cocoa is native to that continent) – rather, it's West Africa.
And today, we'll be spotlighting Ghana in particular. Since it's one of the country's main exports, Ghana has its very own national day for celebrating chocolate.

As the world's second-largest exporter of cocoa, we owe a lot of our delicious chocolate to Ghana.
So to the people of this small country, we say thanks!
Eager to show your appreciation?
If you want to buy bulk chocolate online around this date (not unlikely, given that Valentine's Day is the following day!), choose MyLollies for an extensive range of milk, white, and dark chocolate!
Milk Chocolate Day
When: 28th June
Where: Worldwide
There's no doubt about it – milk chocolate rules the roost when it comes to popularity.
And it isn't hard to see why – thanks to its higher level of cocoa butter, milk chocolate softens and (quite literally) melts in your mouth.
Not to mention, it's sweet, making it a great crowd-pleaser.
So is it any wonder that milk chocolate gets its very own day?
It is believed that milk chocolate first hit store shelves as a drink in mid-19th century Germany. The first milk chocolate in the form of a bar was created by Swiss chocolatier Daniel Peter in collaboration with Henri Nestlé (yes, that Nestlé).
Celebrate the world's favourite type of chocolate with – what else? – milk chocolate. Consider adding milk chocolate sprinkles to your morning coffee, or if you're feeling more ambitious, you could even make a chocolate candy bar cake!
Need bulk chocolates to satisfy your sweet tooth? Click here to buy cheap chocolate online!
White Chocolate Day
When: 22nd September
Where: Worldwide
While milk chocolate has broad mainstream appeal and dark chocolate has a sizeable army of acolytes, white chocolate often gets completely overlooked.
But not on the 22nd of September!
Give white chocolate the attention it deserves with White Chocolate Day.
The team at MyLollies go crazy for white chocolate raspberry bullets. We can't put our collective finger on it, but there's just something about white chocolate and raspberries that go really well together.
Let us know how you celebrated white chocolate day by taking a photo of your white chocolate celebration on Instagram. 
Be sure to tag us too so we see all your fun chocolate celebrations!
Click here to buy white chocolate online.
Buy bulk chocolate online with MyLollies!
Explore our huge range of milk, dark, and white chocolate
Are you planning some fun celebrations for one of the many chocolate days celebrated around the world?
Enjoy cheap chocolate online at MyLollies.
Dark chocolate, Pink Lady chocolate, chocolate gold coins for a costume or milk chocolate… if it's made of cocoa beans, we have it!
And unlike the local supermarket, we also sell bulk chocolate. We give you the power to buy all the chocolate you want at attractive wholesale prices.
Want to mix it up with some non-chocolate options?
We sell all kinds of lollies online, including: 
Our signature

Lolly bags

(great for promotions or small gifts!)

General lollies

Chocolate

Rock candy

Dark chocolate aniseed rings

MyLollies' own lolly brand,

Tropix
Got a question about buying chocolate online? Searching for a specific kind of chocolate or lolly shop? We'd love to help out! Click here to contact us, or give our friendly team a call on 1300 899 000.
Live or work nearby? We invite you to visit our massive lolly factory in Melbourne, where lollies line the shelves as far as the eye can see! Find our lolly warehouse address and contact numbers here.
Buy bulk chocolate and lollies online.