Why You Should Choose Personalised Lolly Bags For Next Event
Want to leave your guests with more than just good memories when they leave? Why not give out a bunch of personalised lolly bags?
Whether you're thinking of making it part of a goody bag, or giving them away on their own, there's no sweeter trinket than a lolly bag.
If you ask us, lolly bags are a lot more diverse than people give them credit for. They're not just for handing out at the end of a kids party – in our experience, lolly bags can be used for any event you can think of!
How so? Simple: custom lolly bags.
Personalised lolly bags are sweet treats that are a perfect choice to give away in all kinds of events:
Corporate celebrations

Weddings

Birthdays (naturally)

Baby showers

Product launches
At MyLollies, we specialise in customised lollies.
No matter what type of party you're throwing, we can create custom lolly bags to fit!
Why use personalised lolly bags at your next event?
Lolly bags save you time
Why do DIY crafts and time-consuming shopping for your goody bags when you can receive personalised lolly bags straight to your office or home?
With MyLollies, creating customised lolly bags is easy and simple – we'll look after:
Packing and sealing

Sourcing the lollies themselves

Bagging your lolly bags
All of that means minimal time spent on your end, giving you more time to organise all the other aspects of your event!
It's an affordable way to leave an impression
Wine bottles, hampers and trinkets are expensive.
Personalised lolly bags are a different story.
When you team up with an online lolly shop that specialises in bulk lollies (such as yours truly!) you'll enjoy a huge quantity of lollies that can be provided to every single attendee.
What's more, you'll enjoy this at close to wholesale prices, meaning you won't have to break the bank when it comes to extras at your event or function.
Everyone loves lollies!
Who can resist any sweet treat? We challenge you to find us somebody who actively dislikes lollies – we'll wait.
If you want to give your guests something that'll go over well, you can't go past lolly bags!
How to choose a personalised lolly bag
Before you start picking lollies for your personalised lolly bags, you'll want to…
Choose lollies that fit your theme
Let's look at corporate events as an example.
If it's a promotional event, you'll want custom lolly bags that fit your:
Branding and logos

Company colours

Attendees – are they customers, or corporate?
That could mean getting your logo printed on your lolly bags (don't worry, we do promotional lolly bags too!)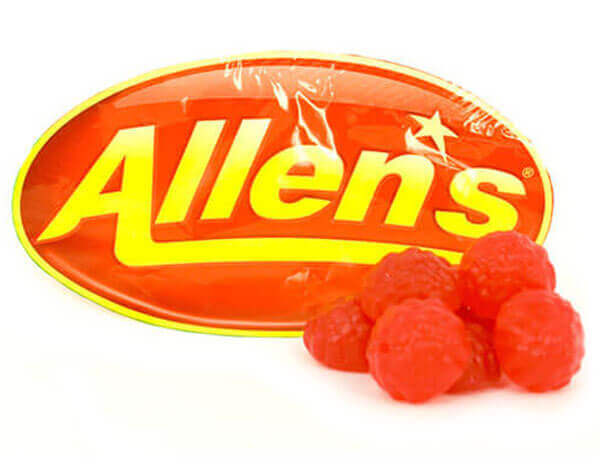 Another idea might be to choose lollies that match the company colours. For example, if red and gold are your company colours, you can choose to pair raspberries from Allen's with yellow lollies like bananas and strawberry Allens.
This applies to private events too. If you're throwing a party with a lolly buffet, be sure to choose lollies that fit your event theme.
Need theming inspiration? Here are a couple of clever lolly buffet ideas to get started!
Make it personalised
When we say custom lolly bags, we don't just mean changing the contents, or even what's printed on your bag – have you thought about getting each attendee's name printed on your lolly bags?
If you might remember Coke doing a promotion where people's names were printed on the sides of Coke bottles. Just imagine that, except applied to your personalised lolly bags!
Not only is this a sign that you went the extra mile – it can also serve as a creative and unique way of marking out your seating plan.
Introducing: MyLollies' personalised lolly bags
We'll make your lollies the way you want them. Pick and choose from our huge online lolly shop until you have lolly bags that perfectly match your event.
In our online lolly store, we sell:
Customised party mixes

Bulk Chocolate

(dark, white, milk… you name it!)

Wrapped lollies
If you're hosting a more refined event for example, you might choose to pack your personalised lolly bags with dark or foil-wrapped chocolate and rock candy.
What's more, we also stock lollies from some of Australia's favourite brands, such as Allen's Lollies.
However, it isn't just the contents of your custom lolly bags that can be modified – you can also modify the bags themselves!
Print guest names on each bag, or pay tribute to the event celebrant, or even print your company logo on your custom lolly bags – there's no limit to what can be done with the design of your lollies!
Custom lolly bags for your event
Check out MyLollies today!
Give a delightful treat to your clients, customers, and guests with MyLollies' sweet custom-made lolly bags.
And thanks to our ability to provide bulk lollies, we can provide custom lolly bags no matter how many guests you've invited.
Here's how it works:
Design and personalise your lolly bag

My Lollies will pack your lolly bags

We'll deliver them to your home or office
Contact us today on 1300 899 000 or explore our online lolly shop today!