Lolly Bags and More: How to Fundraise with Lollies!
So you have an upcoming fundraiser planned. It's for a cause that's close to your heart, and you're eager to raise the largest sum possible.
You've got all the fundraising classics: you've bought supplies for a sausage sizzle, organised a competition, and set up an office raffle.
Here's another idea to help you raise money for that cause you so love: lolly bags.
Looking for somewhere to buy cheap bulk lollies? Or maybe you want some inspiration for the best lolly bag ideas?
Here at MyLollies we admire everyone who volunteers their time to raise money for a worthy cause. To help you out, we've put together a couple of ways you can use lolly bags to fundraise.
3 different ways to use lolly bags in your fundraising event
Charity work and giving back to the community is very important to us. In fact, last year we raised over $40,000 for various charities, and helped many different groups with their fundraising efforts.
Schools, sports teams, community groups, businesses… you name it, and our lolly bags have been there, helping them raise funds for all manner of good causes.
The most common way to use lollies for fundraising is to sell small lolly bags for a couple of bucks. Just think back to when you were in primary school, when you would walk around with boxes full of lollies for sale.
It's a technique that'll get the job done – however, it's also a technique that's been done a million times before!
Luckily for you, that isn't the only way you can use lolly bags to raise money.
Need lolly bag ideas? Today, we'll be spotlighting some of the more creative approaches and ideas we've seen when it comes to using lollies for fundraising…
1) Go custom with your lolly bags
Okay, so you want something a bit more exciting than your standard lolly bag sale. So, how do you stand out from the crowd and ensure your fundraising event gets the most attention?
If you ask us, the answer lies in variety.
Everyone has a different favourite lolly. It might be Allen's Killer Pythons, licorice allsorts it might be jubes or it might be rock candy.
That's why it's so important to include variety in your lolly bags. That way, you will tempt the taste buds of everyone!
To make things easier for you, our mini lolly bag are completely customisable. That means that you can choose exactly what you want in your bags!
Instead of choosing our party mix, you can build your very own custom lolly bags.
This way you can stand out from the crowd by offering greater variety, and even a few special goodies that they won't find anywhere else!
2) Use lolly bags in your raffle
This is an excellent idea that we see a lot of people implementing in their fundraisers. 
The best thing about them is that there are so many ways to use lolly bags in your raffle:
You could offer a raffle ticket with every lolly bag you sell

Or if you're setting up a table somewhere to sell raffle tickets, you could have a lucky dip for the kids (filled with lolly bags of course!)
There options truly are endless and you can get really creative with how you decide to use lollies in your fundraiser. 
There really are no limits to what you can do because let's face it – everyone likes lollies! Pair the sale of a lolly bag with a fundraising initiative, and you've got a sure hit.
3) Turn your lollies it into a competition!
There are so many ways that you can incorporate lolly bags (or bulk lollies) into your raffle – some of which don't even include bags!
If you're feeling a bit more creative, you could turn your lollies into a competition.
What you'll want to do is buy bulk lollies, and put them all into a large lolly jars. For a gold coin fee, your colleagues will be able to enter a competition where they'll have to guess exactly how much the jar weighs just by looking at it.
The person who guesses the right amount of lollies gets to take the lolly jar home!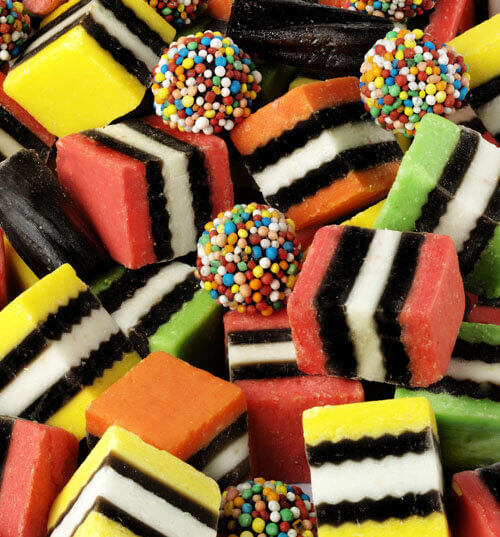 Why lolly bags?
Simple: people love lollies!
Whether it's a specific brand like Allen's Lollies, or an entire category of lolly like licorice, everybody has a favourite lolly.
With so many irresistible favourites available, it's no wonder lolly bags are such a popular choice for fundraising!
We often hear our customers asking about lolly bag ideas and the best way to use bulk lollies in a fundraiser.
We always love to offer advice to our customers, especially when it will benefit a good cause.
This list includes just a handful of the most clever lolly bag ideas we've seen when it comes to fundraisers.
There are plenty of other options we didn't get time to mention – get in touch with our team if you'd like further ideas!
Need help with lolly bags for fundraising?
Buy bulk lollies from MyLollies today!
MyLollies is a family owned business with a community focus. That's why we're committed to using Australian products in our lolly bags wherever we can.
Another part of that commitment to the community is helping businesses big and small with their charity efforts with lolly bags for fundraising.
Our mission is to help you raise money for that noble cause. Our confectionery warehouse stocks a wide range of lollies for our customers at near wholesale prices.
Found somewhere with a better price? Not so fast! We'll beat it by 5%.
Our range includes:
Mini lolly bags

Rock candy

Tropix

General lollies
Want to discuss your lolly needs for an upcoming charity or fundraising event? Give our friendly team a call on 1300 899 000. Alternatively, contact us here and we'll be in touch.
Or if you'd rather start shopping, buy bulk lollies online today! We offer fast shipping anywhere in Australia. Lolly Shop Online.