Why We Love Allen's Lollies and How To Buy Cheap Bulk Lollies
Here at MyLollies, we love lollies (but that should go without saying!)
In particular, we love Aussie lollies. We make it our mission to support the economy by sourcing as many of our lollies as possible from local manufacturers and brands as possible.
One brand that we're especially fond of is Allen's Lollies.
When you hear "lollies", chances are Allen's is one of the first lolly brands that comes to mind.
If you're looking for cheap bulk lollies, you can't go wrong with this Australian icon!
Why we love Allen's lollies
Allen's Lollies was founded in 1891 right here in Melbourne.
By 1909, Allen's was one of the biggest names in Australian confectionary – a title it continues to hold to this day!
For more than a century, Allen's lollies have been delighting the young and young-at-heart with their huge range of sweets. You may remember gorging yourself on Allen's during your childhood!
Thanks to how long the company has been around however, there's also a good chance that your parents and grandparents also indulged in Allen's lollies when they were younger!
It's thanks to this long history that Allen's lollies are so loved and trusted. We support the brand by using them in out lolly bags and stocking a huge range of treats in our lolly shop.
Allen's is also a supporter of Red Frogs Australia, a non-profit organisation that's committed to educating young people about safe alcohol consumption – especially during schoolies week.
Our favourite Allen's lollies
Our online lolly shop is all about options.
We know that everybody has their own favourite lolly, which is why we make it our mission to offer as many different lollies as possible. That way, everybody can buy lollies that they love!
In particular, we stock a lot of cheap bulk lollies from Allen's.
This includes classics such as…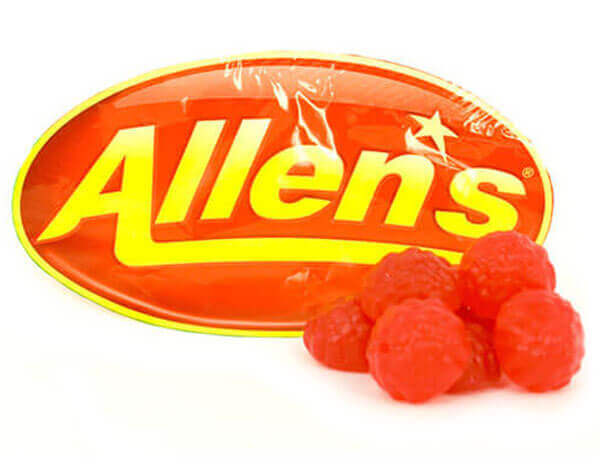 Ripe Raspberries
Craving raspberries? Can't wait until summer for the real deal to come into season?
You can always buy some Ripe Raspberries from Allen's!
These bite-sized lollies are the perfect choice for sharing lollies at work, filling out a lolly buffet or snacking on throughout the day.
If you notice your bowl of raspberries depleting at an abnormally fast rate, visit MyLollies' online lolly shop.
We stock Ripe Raspberries in 1.3kg bags, saving you the fuss of multiple trips down to the local supermarket.
Click here to buy Allen's Raspberries online.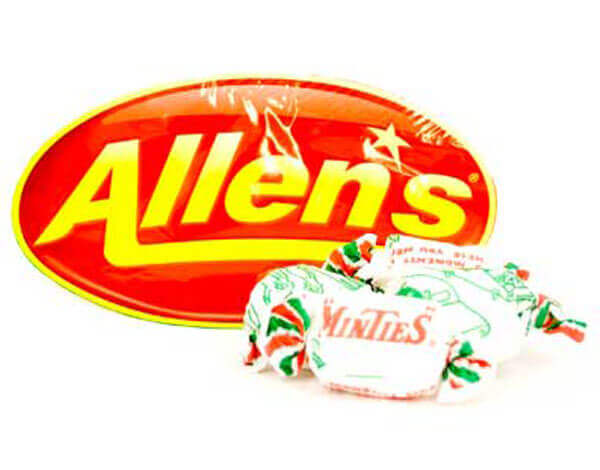 Allen's Minties
You might be surprised how long Allen's Minties have been around – this range of lollies was created by Alfred Allen himself all the way back in 1922, almost 100 years ago!
Despite being available for nearly a century, Allen's Minties have remained virtually unchanged. Each time you unwrap and eat a Mintie, your taste buds are essentially travelling back in time.
You can even see it in the wrappers. Compare Allen's Minties to the other bulk wrapped lollies we stock in our online lolly shop, and you'll notice a distinctly retro design on each wrapper. That isn't a throwback – that's the exact same wrapper design of yesteryear.
Is it any wonder Allen's Minties are so enduring?
Click here to buy Allen's Minties online.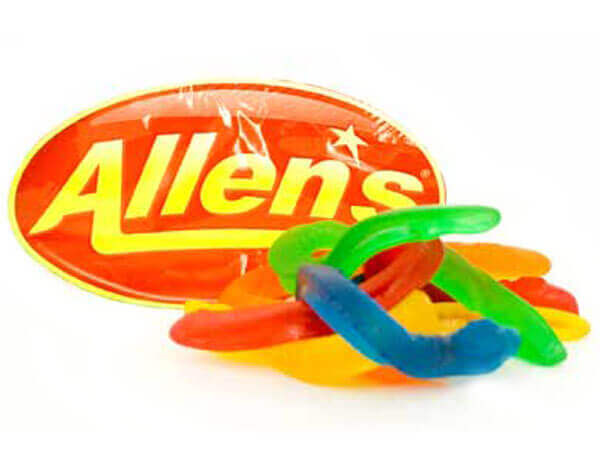 Allen's Snakes Alive
The most dangerous creature in the jungle just got sweeter!
Allen's Snakes are one of our favourite lollies – there something undeniably fun about stretching out each snake before you take a bite!
And the people seem to agree – that's why snakes are some of our biggest sellers!
Snakes are a staple of any lolly buffet or lolly bag. Each bag is full of crowd-pleasers such as lemon, strawberries, blackberries, pineapple and apricot – you can even mix flavours by tying some of your favourites together.
Coming in 1.3kg bags, MyLollies allows you to fill your event up with Allen's snakes to your heart's content. While 1.3kg might sound like a lot, we guarantee they won't last long!
Click here to buy Allen's Snakes Alive online.

Allen's Killer Python
Take your regular snakes and size them up, and you get Allen's Killer Pythons!
Coming in at a whopping 23 centimetres long, these edible reptiles are considerably larger than regular snakes, making them great choices for people who just can't get enough.
In addition to offering more snake, Killer Pythons are also multi flavoured, making them a great choice if you can't decide what flavour you feel like today.
Each of these multi coloured pythons features the flavours of orange, apple, pineapple, luscious mixed berry and strawberry.
Better yet, just like Snakes Alive, Killer Pythons contain no artificial colours, making it a great choice for friends and family!
Click here to buy Allen's Killer Pythons online.
Allen's Party Mix
Can't decide what lollies you want? Why not go for a little bit of everything?
Allen's Party Mix isn't just for parties – it's also perfect for those who want to diversify their daily snack.
At MyLollies, we don't just resell Allen's Party Mix – we also make our own. We create a unique party mix using Allen's diverse range of lollies. We mix-and-match, pulling treats from Allen's entire range of lollies to create a unique Party Mix that's perfect for entertaining.
We believe that leftover lollies are a sign that your party mix could be better. That's why we went ahead and swapped out less popular sweets, and replaced them with more popular lollies for a guaranteed hit.
If you need, we can even create a customised lollies using Allen's Lollies, just for you!
Need cheap bulk lollies? Buy lollies online!
We're big fans of Allen's lollies here at MyLollies. If you're also a fan of this particular brand, we want to hear from you!
Whether it's a birthday party or a company fundraiser, Allen's fantales can be right for you.
Our online lolly shop offers cheap bulk lollies at close to wholesale prices, making us the perfect place to go for all your sweet treats. 
Click here to explore our current lolly specials.
Have questions? Give us a call on 1300 899 000 or click here to send us a message.
Live in Melbourne? Feel free to stop by our lolly warehouse!