Buy iconic Aussie bulk lollies online with MyLollies
While we Aussies love our Vegemite, it doesn't exactly have the best reputation overseas, as the hundreds of taste-test videos (and the subsequent expressions of disgust) on YouTube can attest to.
If you've got an overseas friend that you want to introduce to classic Australian treats, Vegemite might be one you skip over! 
Good news: you have plenty of sweeter options to draw from thanks to Australia's long lolly-making tradition.
Want to introduce someone to Aussie snacks? Feel free to pick from the pantheon of Australian lollies (each of which you can buy at our online lolly shop!)
What iconic Aussie lollies does our online lolly shop stock?
Allen's Killer Pythons
And unlike other Aussie snakes, these ones are friendly – and delicious!
Who doesn't love snakes? Whether you prefer chowing down on snakes or slowly stretching them out like edible rubber bands, snakes are a staple of any Aussie kid's childhood.
But have you ever wished that they were, y'know, bigger?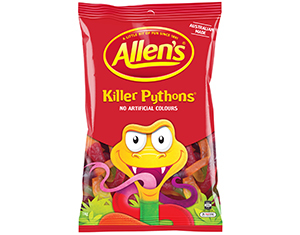 That's why we're kicking off our list of iconic Australian lollies with Allen's Killer Pythons – the biggest, baddest, and sweetest Aussie lollies around!
These multicoloured serpents are the kings of the jungle. Not only do they have fantastic "stretch-factor", but they also come with every flavour – no more having to rifle around the bag to pick out your favourites.
Strawberries and cream
Strawberries and cream: a winning combination!
Strawberries & cream are classic Aussie lollies – you'll find them in party mixes, as well as on their own.
Bite into one, and you'll be greeted by a burst of fruity flavour, as well as the smooth taste of cream. And without the will-it-be-sweet-or-sour anxiety that comes with eating real strawberries!
Allen's Minties
Waiting rooms. Hotel lobbies. Reception desks. A lot of the time, mints are a side, and never the main attraction.
Our opinion? Mints deserve more!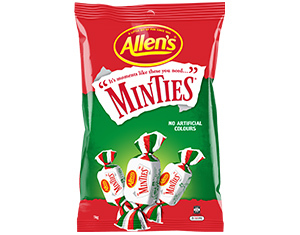 Allen's Minties are a uniquely Australian spin on traditional mints; they're a staple of any lolly mix.
To leave them out the next time you buy lollies online would be un-Australian, simple as that!
Honey & Eucalyptus
What's the first thing that comes to mind when you think "Australia?"
Koalas, of course! These furry creatures are an iconic part of Australian culture.
Their habitat, too, is pretty well-known. Gum trees could almost be considered our national plant (though it's the equally deserving golden wattle).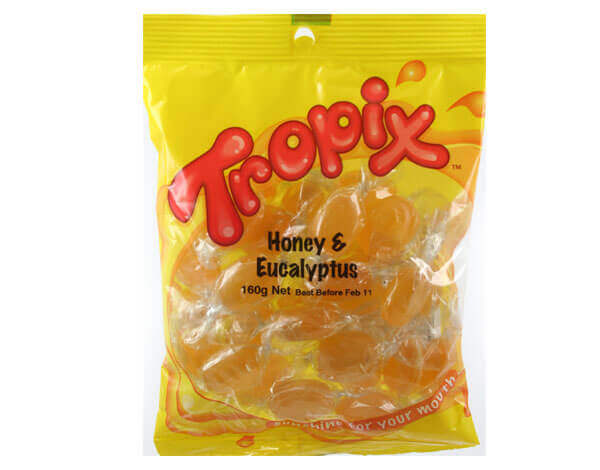 And there are no lollies more Australian than Honey & Eucalyptus.
Give them a taste of Australia with these uniquely Aussie lollies.
Sure, we might not be the only country to have gum trees… but we are the only country (that we know of, at least) that's turned a tree into a flavour of lollies!
They aren't just sweet, either – they're also soothing, making them a great choice for a sore throat.
Crocodiles
"Crikey, we got a big one here!" 
Oh, don't worry, these crocs don't bite. In fact, you'll be the one eating them!
Get your inner crocodile hunter on – without the risk of bites.
These tiny, delicious little crocs come in all your favourite flavours – they're great if you're looking to put a uniquely Aussie spin on your lolly bowl.
Want a creative twist? Buy crocodile lollies and dip them in blue jelly for a mini recreation of Australia's rivers and waterways!
Australian-made lollies
If you're gonna introduce someone to the world of Aussie lollies, go all-out:
Buy bulk lollies online

(our list is a great starting point!)

Decorate with essential Australiana like kangaroo signs, Akubra hats and more

Start blasting

Down Under

by Men At Work (the TRUE national anthem!)
Most important? Make your Aussie lollies are, well, actually Aussie!
Good news: our online lolly shop has you covered!
When you buy lollies online, it can be a bit hard to vet what you're getting. How do you know your lollies…
Are made in Australia?

Come in the quantities you need?

Pass the taste test?
When you buy bulk lollies online with MyLollies, you're supporting a local business.
Take a gander through our lolly shop online– we love sharing Aussie brands with lolly-lovers all over the country. 
Buy lollies online with MyLollies
We've got all the bulk lollies you'll ever need
Looking to buy bulk lollies in Australia? You've come to the right place…
We've got it all, from true-blue Aussie icons to modern classics. And best of all, we do it in bulk.
Bulk lollies are our "thing":
Huge quantities of lollies

Delivery directly to your front door

Wholesale prices
It's literally never been easier to buy lollies online! Click here to start shopping today.
Have queries? Need to chat? Drop us a line on 1300 899 900 for answers to all your questions!