The sweet history of Allen's lollies
Allen's Lollies are Aussie classics.
Just the thought of them triggers a journey back down memory lane. There are few things as strongly associated with childhood in Australia like Allen's (aside from maybe Play School and fairy bread!)
From lolly bags at children's parties to Trick or Treating during Halloween, Allen's are a staple of all Aussie kids' upbringings, pleasing generations of lolly lovers in Australia with classics such as:
Iconic

Red Frogs

Snakes Alive!

Raspberries & Cream

Allen's

Minties
And it isn't just you –  you might be surprised how long these lollies have been around. Just ask your grandparents – odds are they have memories of gorging themselves on Allen's Lollies as well!
So before you fill your online shopping cart with bulk Allen's lollies, you might want to take some time to learn about the sweet, sweet history of this timeless lolly brand…
The history of Allen's Lollies
A legend is born…
While independent lolly makers have operated in Australia for years, it wasn't until the 1880s where some of the names we recognise today started to pop up.
One of these was MacRobertson's, responsible for Aussie classics like Cherry Ripe and Freddo back in the 1880s.
Of course, they weren't the only big player to get their start at this time – Australia's largest confectionery today, Allen's, was founded in Melbourne around the same time.
Originally working for MacRobertson's, Alfred Weaver Allen decided to branch off and start his very own lolly business in 1891, complete with production line and storefront.
Based in Fitzroy, Allen's network quickly grew, absorbing other businesses throughout the city and scaling up their production of bulk lollies until they became the third-largest manufacturer in Melbourne by 1909 – only a short handful of years later!
Making its sweet mark on the confectionary world
Having realised it would be impossible to supply that many lollies out of their existing facilities, Allen's moved their production into a vast factory in 1922 (shortly after launching as a public company).
It as during this time that many of Allen's lollies were developed, going on to delight children and the young-at-heart for decades to come:
Allen's Minties – 1922

Jaffas

– 1931

Fantales – 1930's
Of course, that wasn't the only way Allen's was firmly embedding itself into the Australian consciousness.
Older readers might remember a time before Melbourne's Southbank district was all glitz and glamour: we're talking the days before the city's revival, luxury high-rise apartments, and Crown Casino.
Back then, the Yarra was lined with huge factories – one of which was owned by Allen's.
The place was huge – you couldn't have possibly missed it, especially with the iconic neon sign mounted to its roof!
Fun fact: said sign didn't come with the factory, and was only erected in 1955 (while it was one of many iconic signs dotting the skyline, today only the Skipping Girl and Nylex clock are still around).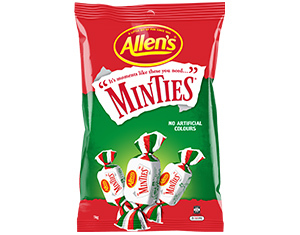 Making the world a sweeter place: Allen's goes global!
Australia got lucky during World War II, escaping significant damage. This gave Allen's the opportunity to grow without interruption, continuing its rise to become Australia's largest and most popular confectionery company.
Of course, that doesn't mean that no changes were made – for example, it was around this point that the decision was made to stop making chocolate and focus entirely on their range of lollies. A good call, if you ask us!
All this success started to draw attention from overseas and in 1985, Rothmans Holdings, a UK-based company, purchased it, before eventually selling it on to Nestle.
Part of this involved a move to new pastures – as a result, Melbourne lost an icon.
However, it also opened up several opportunities – Nestle was on a shopping spree during the 1980s and 90s.
In addition to Allen's, Nestle also bought up a range of other iconic Australian lollies like Sweetacres, Hoadley's and Mastercraft.
What did they do with them? Why, they rolled them all together to essentially create mega-Allen's. If Allen's wasn't Australia's biggest lolly maker before, it definitely was now!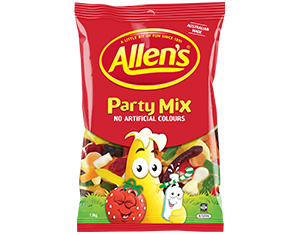 Allen's lollies have stood the test of time – and remain classics, even today! 
With over a century of sweetness under their belt, Allen's lollies have proven staying power. Allen's current range of lollies are beloved by both the young and young-at-heart.
It's really quite impressive: the vast majority of Allen's range of lollies has survived. If you want bulk lollies, you can still choose from a range of time-proven classics:
Strawberries & Cream

Bananas and Milk Bottles

Red frogs

Party mixes

Allen's Snakes
Not only are each of these lollies proven crowd-pleasers, but now they can be bought in bulk with our online lolly shop!
Buy lollies online with MyLollies!
Our online lolly shop has everything you need to satisfy your sweet cravings
Whether you want cheap lollies or need a shipment of bulk lollies for an upcoming celebration, we've got everything you need.
Lollies from leading brands like Allen's? Check.
Bulk lollies at wholesale prices? Check.
Speedy nationwide delivery? Check.
With a huge range of sweets available, we've got everything you need for a sweet party (yes, pun intended!)
Explore the range and shop online now!
Got questions? We'd love to assist! Call us on 1300 899 000 or fill in this form and we'll be in touch.