The 4 best lollies to buy online for your jungle-themed party
Coming up with ideas for kids birthday parties is surprisingly challenging. You'd think that young children would be easy to plan for – just set up some activities and invite their close friends and you've got a banging party, right?
Unfortunately, it isn't that easy.
Ask any parent and they'll tell you that kids can be surprisingly picky. You've probably learned this first-hand!
If you're stumped on ideas, we've got one for you: the animal kingdom.
So you can't exactly go to the zoo at the moment. You know what you can do, however? Bring the zoo to your home!
And the best way to do that is with a little help from our online lolly shop!
Bulk lollies of the animal kingdom
Everyone had a favourite lolly as a kid. You know what else we all had? A favourite animal too!
So what better to combine your kid's two loves than with jungle-themed lollies for their upcoming birthday?
Our online lolly shop stocks a huge range of treats from some of Australia's favourite brands, including a whole bunch of animal lollies – you honestly can't go wrong with any of them!
Snakes, glorious snakes!
Long, stretchy and (best of all) not poisonous at all, what better place to start with your animal lollies than with these perennial favourites?
Whether you're the type of person who likes stretching them out or chowing down on them by the handful, these stretchy sweets are a great place to start.
Not only are snakes a great fit for your theme, but they also come in a huge range of flavours. Everyone's favourites are here!
With common lollies like snakes, it isn't uncommon to find low-quality ripoffs crowding supermarket aisles.
Fortunately, our online lolly shop exclusively stocks snakes from some of Australia's best known brands, like Allen's Snakes Alive.
We even stock gluten-free snakes – so anyone can enjoy the sweetness of snakes!
Click here to buy snakes online.
Look out for the snake! Allen's Killer Pythons
If so, Allen's Killer Pythons are just what you and your kids are looking for!
Allen's Killer Pythons are the kings of the lolly kingdom (sorry lions, at least you'll always have real life). Just imagine snakes, except larger, longer, and stretchier!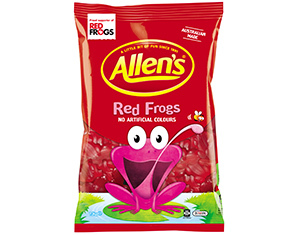 Frogs
Snakes are a staple of any Australian child's lolly upbringing – however, they aren't the only animal present. Frogs are another classic Australian lolly.
Red frogs are bona fide Australian classics. However, that isn't the only colour they come in – while Allens may have killed off their green frog range recently, other brands are still making frogs in all sorts of colours.
Another classic you can't overlook for your jungle theme are Aussie Bush friends – these chocolate green frogs from Pink Lady will be enjoyed by kids of all ages!
Killer crocs
Real life crocs are dangerous – luckily, these ones are anything but.
Crocodiles might not be the first lollies that come to mind when planning an animal-themed party – and that's the entire appeal!
If you're looking for a frightening (yet delicious) lolly to add to your selection, explore these snappy crocs!
No party is complete without decorations
So you've decided on a jungle theme – now all you have to do is dig up decorations which you can use to complete your animal kingdom!
Luckily, that doesn't mean having to go to extreme lengths.
It's entirely possible to put together a jungle  party without having to break the budget – here's how…
Go green
If you've decided on an animal themed lolly buffet, you'll want to bust out a green tablecloth!
The reasoning should be pretty straightforward – green is the colour of nature, so naturally green should be the main colour you use for your child's animal party.
And it doesn't have to end with tablecloths, either – if you have small potted plants, succulents or even fake vines lying around, feel free to scatter them around as part of the decorations.
Wood and clay are the way to go
You've bought bulk lollies online – now what you need is a way to present them when the big day comes.
If you want our advice, the best bet is to start with wooden and clay bowls and stands.
Wood and clay look natural and give your lolly arrangement that natural look you won't get sticking with traditional ceramic bowls or glass.
Other decorations and flairs
The sky's the limit when it comes to decorating for animal kingdom parties – if you want to go the extra mile, you can also:
Cover your table in nets – this looks similar to cobwebs, making them the perfect fit for a jungle theme

Decorate by bringing a wide-brimmed hat out of the cupboard and using it as a prop instead of leaving it to gather dust

Consider playing a loop of jungle noises and bird calls over the speakers

Bringing your household pets into the picture –

with the right props

, you can turn Felix the cat or Fido the dog into the King of the Jungle!
Some other ideas include putting frogs in cordial bowls or even hiding a couple of bananas or raspberries in trees or plastic plants
They're little touches, but they can go a long way towards bringing the entire thing together and making your kid's day!
First step? Buy lollies online at MyLollies!
Of course, you can't have a party without lollies (especially when there are kids involved). 
And you need lots of them.
Fortunately for you, that's exactly what our online lolly shop in Adelaide specialises in.
Our raison-d'etre is to provide bulk lollies, and to do it without breaking the bank. We specialise in providing bulk lollies online, and doing it on the cheap.
Lower prices doesn't have to mean lower quality – our online lolly shop only stocks sweets from recognisable Australian and global brands, ensuring you get lollies that have just the right taste, stretch and colour!
Click here to start shopping and bring the jungle home!
Have questions? Give us a ring on 1300 899 000, or get in touch with our team online.