Confectionary Warehouse Melbourne
If you're searching for an affordable lolly shop in Melbourne that offers all your favourites, you can't beat MyLollies not only for our extensive range – but for our super low prices, too!
From classics like Fantales and Licorice Allsorts to lollipops, sour lollies, and jelly beans, you'll be grinning from ear to ear when you visit our confectionary warehouse.
Visit our lolly factory Melbourne
We love seeing customers' reactions when they step into our lolly factory in Melbourne for the very first time.
Walls of lollies, as far as the eye can see: it's our very own Willy Wonka candy factory! Every sweet you could ever wish for can be found right here with MyLollies.
Jelly beans
These snackable candies are a staple in any office or kitchen! Stock up on this classic candy and colour your world!
Chocolates
Who can resist the smooth, decadent taste of chocolate? Find all your favourites here, including dark, milk, and white chocolate treats.
Lollipops
Swirly, colourful, sweet treats for people of all ages! Stock up on all your favourites and shop online for fast delivery Australia-wide
Lolly bags
MyLollies' Mini Bags are small bundles of lolly joy! Simple, affordable, and guaranteed to put a smile on someone's face!
Rock candy
This nostalgic sweet treat will take adults back to their very own childhood! Rock out with rock candy bags, jars, and resealable pouches.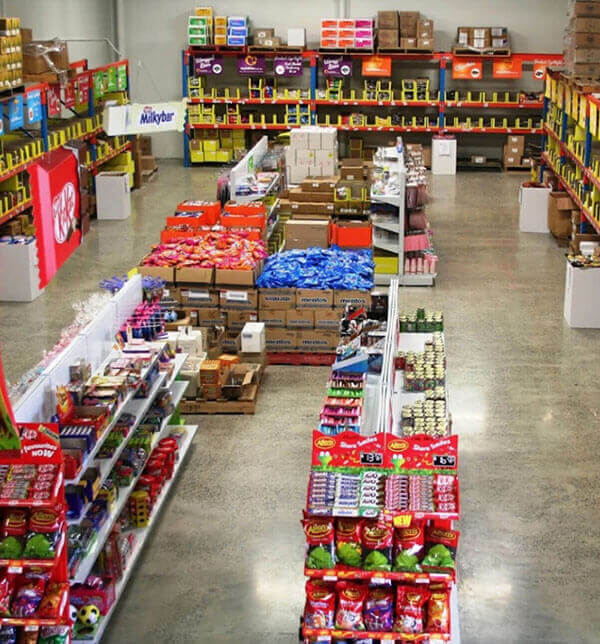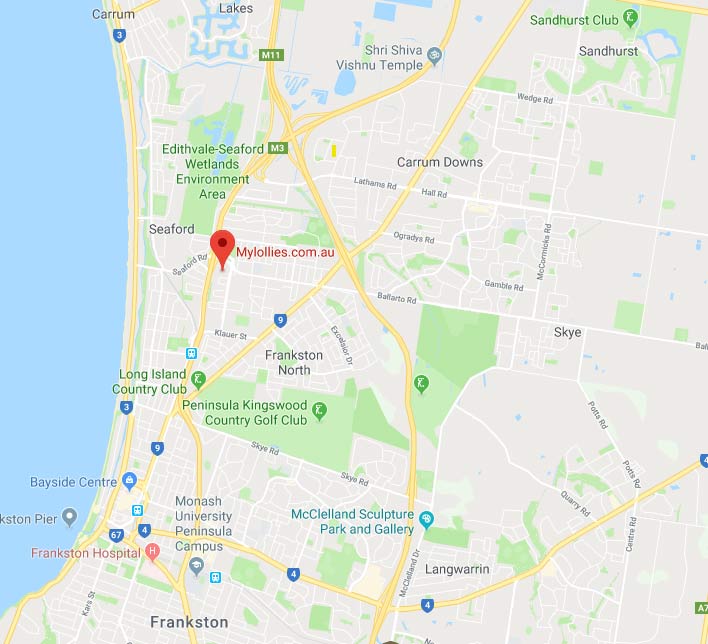 Lolly warehouse Melbourne
Lollies line the walls of our 4000m² lolly warehouse! It's hard to resist all of the sweet temptations around us, but we'd do anything to provide our customers with the highest quality wholesale lollies.
You'll be blown away by the bright colours and sweet scent as soon as you step through the doors of our warehouse.
Our lolly shop is more than just a place to pick up some sweet treats – it's where you can get transported to another world, just like Charlie did in Willy Wonka and the Chocolate Factory!
We've welcomed hundreds of thousands of kids and adults through our doors over the years, but we still get a thrill when we see their eyes light up as they try to take it all in.
Our entire candy warehouse is also climate-controlled to ensure that all of our products are in pristine condition when our customers receive them. We even have a separate area for bulk chocolate products so that they can be stored at the proper temperature and away from any candies that may give the chocolate an undesirable taste or smell.
Whether you're visiting for the first time or are a seasoned MyLollies veteran, every time you walk through our doors, you'll be greeted by a friendly, fun, and lolly-obsessed team!
We'll help you find just what you're looking for or let you happily browse the aisles, collecting your favourite treats along the way.
Lollies, lollies, and more lollies
Snakes, sour lollies, jelly beans, chocolates, licorice, and lollipops line the shelves at our warehouse. Looking for something specific? Give us a yell and we'll point you in the right direction! Want to stock up on a range of yummy favourites? Go forth!
Love the idea of a lolly buffet?
Creating a lolly buffet might seem like hard work, but all you really need is a colour scheme and some jars or containers! Luckily for you, we can help with the first.
With lollies and candies available in a huge range of colours, finding the right treats to match your theme is simple at MyLollies.
Whether you need pink, blue, red, green, or any other colour of the rainbow, find all coloured lollies at our warehouse!
Sweet treats to match your brand
Planning an office party, product launch, or any other work-related event? Want to create lolly bags filled with coloured sweets that match your brand or logo?
Finding coloured lollies is so easy with MyLollies, and requires a lot less time, effort, and money.
Nothing better than being handed a bag of lollies or enjoying some yummy sweets during an event!